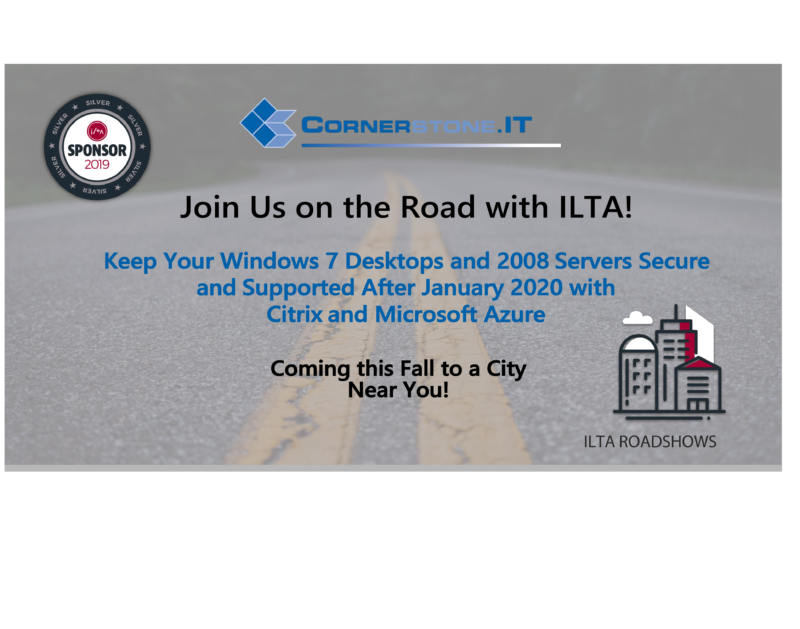 CORNERSTONE.IT ON THE ROAD WITH ILTA – FALL 2019!
Windows Virtual Desktop (MVD) Released to the Public!
Microsoft has publicly released Windows Virtual Desktop (MVD).  Learn what this means for you and more by joining Cornerstone.IT and ILTA at one of our live events or on our webinar!
Discover how Citrix and Microsoft Azure can keep your Windows 7 desktops and Windows 2008 servers supported and secure after January 14, 2020.  Included with your Azure subscriptions, Microsoft will provide free security updates for Windows 7 and server 2008 for 3 years. Citrix supplies the supporting software to virtualize your Windows desktops.  Microsoft Azure provides the platform and security updates you need.  You will also get a preview of Citrix Intelligent Workspace!
| | | |
| --- | --- | --- |
| DATE | TIME | CITY |
| Tuesday, October 8 | 12:00 PM – 1:30 PM CT | Houston, Texas |
| Wednesday, October 9 | 12:00 PM – 1:30 PM CT | Dallas, Texas |
| Thursday, October 10 | 12:00 PM – 1:30 PM CT | Chicago, Illinois |
| Wednesday, November 13 | 12:00 PM – 1:30 PM ET | Washington, District of Columbia |
| Friday, November 15 | 12:00 PM – 1:30 PM  ET | Philadelphia, Pennsylvania |
| Wednesday, November 20 | 8:30 AM – 10:00 AM ET | New York, New York |
| Thursday, November 21 | 2:00 PM – 3:00 PM  ET | Webinar |