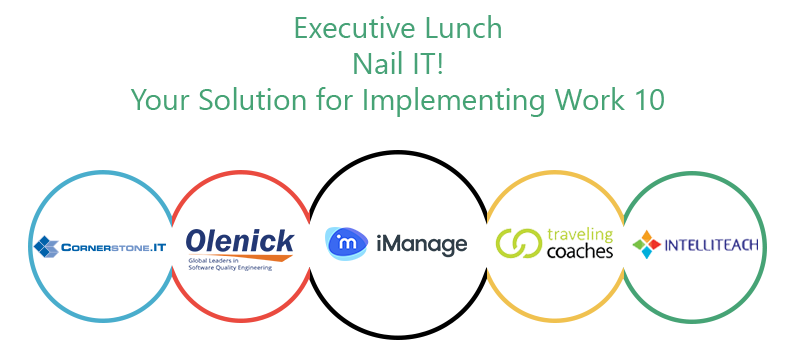 Nail IT!
A One-Stop Solution for iManage Work 10
The Best Implementation, Deployment, Training, and Support Solution for Your Firm's iManage Success
[fusion_button link="" text_transform="uppercase" title="" target="_self" link_attributes="" alignment="left" modal="" hide_on_mobile="small-visibility,medium-visibility,large-visibility" class="" id="" s2id_autogen25="" s2id_autogen25_search="" color="default" button_gradient_top_color="" button_gradient_bottom_color="" button_gradient_top_color_hover="" button_gradient_bottom_color_hover="" accent_color="" accent_hover_color="" type="" bevel_color="" border_width="" size="" stretch="default" shape="" icon="" icon_position="left" icon_divider="no" s2id_autogen26="" s2id_autogen26_search="" animation_type="" animation_direction="left" animation_speed="0.3″ s2id_autogen27="" s2id_autogen27_search="" animation_offset=""]EVENT HAS ENDED![/fusion_button]
Even though your law firm has under 100 users, you are bound by the same demands, as well as risk and compliance requirements, as large law firms (e.g., same quality, ethical obligations, and reporting requirements). Yet, you have fewer resources. In this situation, how can you compete?
Successful adoption of your iManage Work 10 solution depends on many factors that influence the entire adoption life cycle: a smooth and reliable purchasing and implementation process, consistent and efficient deployment, effective communications and training, and 24/7 post-implementation support from experts. On your own, it is hard to handle all of these facets.
This is why Cornerstone.IT, Olenick, Traveling Coaches, and Intelliteach – award-winning vendors to AM Law 100 firms – have come together to deliver a groundbreaking one-stop solution for a flat-fee to ensure your small firm adopts iManage Work 10 successfully.
If you're planning an iManage upgrade, join us for lunch at ILTACON 2019 on Monday, August 19, in Peacock #2 (Swan Hotel) to see how Cornerstone.IT, Olenick, Traveling Coaches and Intelliteach can help you nail it!
N.B. This exclusive event is open to law firms with 100 or fewer end-users.
Download the flyer 
Please contact Adriana with any questions regarding this event.

[fusion_button link="" text_transform="uppercase" title="" target="_self" link_attributes="" alignment="center" modal="" hide_on_mobile="small-visibility,medium-visibility,large-visibility" class="" id="" s2id_autogen22="" s2id_autogen22_search="" color="default" button_gradient_top_color="" button_gradient_bottom_color="" button_gradient_top_color_hover="" button_gradient_bottom_color_hover="" accent_color="" accent_hover_color="" type="" bevel_color="" border_width="" size="" stretch="default" shape="" icon="" icon_position="left" icon_divider="no" s2id_autogen23="" s2id_autogen23_search="" animation_type="" animation_direction="left" animation_speed="0.3″ s2id_autogen24="" s2id_autogen24_search="" animation_offset=""]EVENT HAS ENDED![/fusion_button]