Citrix XenDesktop 7.6


NYC Rooftop Event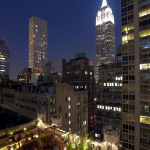 This event has ended. If you would like to know about upcoming events in your area, please contact us.
See what is new in Citrix XenDesktop 7.6, including Local App Access and Personal vDisks

Learn how to use tools like Login VSI and Citrix Insight to identify bottlenecks and remediate pain points

Avoid costly add-ons and improve user experience by using Microsoft Group Policy and Citrix Profile Manager
Presenter: 
Lisa Stone is Cornerstone.IT's lead systems engineer and has been an IT professional for over 15 years. She is a Citrix Certified XenDesktop Engineer with extensive experience in building Virtual Desktop Infrastructure, configuring Application Integration and Group Policy Management, and implementing Document Management Systems. She is also a Certified HP WorkSite Document Management Engineer in addition to having substantial experience training end-users and IT professionals. Lisa's growing breadth of technical expertise and unwavering dedication to our clients represent the core of Cornerstone's vision.