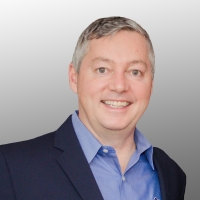 Walk into a crowded room for a Lunch and Learn and you may see Jim Moreo standing in front, ready to discuss the latest information technologies for your business. While you lunch, you will learn that Jim and Cornerstone Information Technologies, LLC are more than just a business solutions and managed services provider firm – Jim is an engaging, knowledgeable owner who has created a business that prides itself on customer service. When Jim talks about a service or technology, he isn't reading from a script, he's speaking from knowledge and experience. Jim knows each product thoroughly and he takes the time to get to know each client personally.
These meetings, along with one-on-one appointments both before and after a client begins to work with Cornerstone.IT, are what make Jim someone you can trust. Although he's responsible for the sales and marketing, Jim doesn't rely solely on those skills to obtain and retain clients. When it comes down to it, Jim is a computer guy who simply has a knack for client interaction and his gift has helped his business grow.
"My brother Tommy and I started Cornerstone.IT together in 2003 with just one client," Jim recalls. "We've now built it up to having four offices across the country, with many, many more clients."
Once Jim signs a new client, he stays involved, working with the client systems architects behind the scenes to manage the account's day-to-day activities and meeting with the client regularly to ensure they are getting what they need. Jim maintains a detailed knowledge of Cornerstone.IT's products through regular training and ensures that his staff is up to date as well.
Jim's love for computers began back in high school when he got his first taste of computer science through a BASIC class at school. It was one of the very first computer classes offered, and once it was over, he was hooked.
"That class helped me decide my college major," Jim recalls. "I began at Queens College, but then transferred to New York Institute of Technology where I majored in computer science and minored in mechanical engineering. I really enjoyed the technical side, the math and engineering behind everything."
This early love of computers still holds true today. Through a career that began at Grumman Aerospace working on a combination of mainframe and first generation PCs, to LAN Systems where he became one of the original certified Microsoft Certified Systems Engineers (MCSE) and next to Union Square Technology Group where he serviced the legal industry as a Microsoft engineer and then client systems architect, Jim worked his way up in the industry before deciding to go out on his own with his brother.
When not working, Jim is very involved in the community and with his family – a wife, three kids, and a dog. He's the baseball coach for his youngest son's team, a member of the local baseball board, and loves to ski and fish. Jim is also a member of the Goldens Bridge Hamlet Organization responsible  for preserving his town's historic and natural features. Recently, he's begun a new adventure – wine making with a neighbor, which he approaches with the same passion as he does everything in his life.