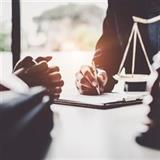 Beck Redden, a leading Texas litigation and appellate firm, has selected iManage to meet its work product management requirements. The iManage platform tightly integrates a set of applications, delivering a consistent, integrated user experience for the firm's attorneys and staff.
The firm is using iManage Cloud to take advantage of the work product management platform while avoiding the costs related to purchasing and maintaining on-premise servers and other IT infrastructure. iManage Cloud simplifies Work Product Management IT administration for the firm by enabling automatic upgrades to new functionality and software updates.
In addition, the firm is using two additional iManage security applications—iManage Security Policy Manager and iManage Threat Manager—that integrate into the iManage Cloud. This makes it easier for Beck Redden to implement need-to-know security policies, protect sensitive client information from both external and internal threat actors, manage ethical walls and meet client security audit requests.
iManage's comprehensive approach to document and email management, security, and governance are helping Beck Redden work smarter and provides a proactive approach to protecting client data. Adding iManage Records Manager, the firm can set retention periods and disposition rules, as well as monitor and enforce compliance on electronic and physical records.
"We see the value in what iManage is doing by creating a single, integrated platform that manages all of our work product and keeps it secure and governed," said Eric Richard, Director of IT, Beck Redden. "Investing in iManage demonstrates to our staff and clients the firm's deep commitment to providing a real productivity platform while respecting complex data security requirements."
iManage partner Cornerstone.IT assisted with the firm's implementation of iManage Cloud and iManage's security and governance applications. Cornerstone.IT was chosen for its personal consulting approach and project experience with iManage.
More information is available about iManage (https://imanage.com), Cornerstone.IT (https://www.cornerstone.it/), and Beck Redden (www.beckredden.com) from their websites.
Source: West (https://www.globenewswire.com/news-release/2019/04/02/1795266/0/en/Leading-Litigation-Firm-Beck-Redden-Selects-iManage-for-Document-and-Email-Management-Advanced-Security-and-Governance.html)