The Time to Prepare is Now
---
On February 11, 2020, Barton LLP, NYC hosted, "How Does the New NYS Cybersecurity & Privacy Law (SHIELD Act) Impact Your Business?", an ILTA event presented by Jim Moreo, Principal of Cornerstone.IT and Kenneth N. Rashbaum, Partner, Barton LLP.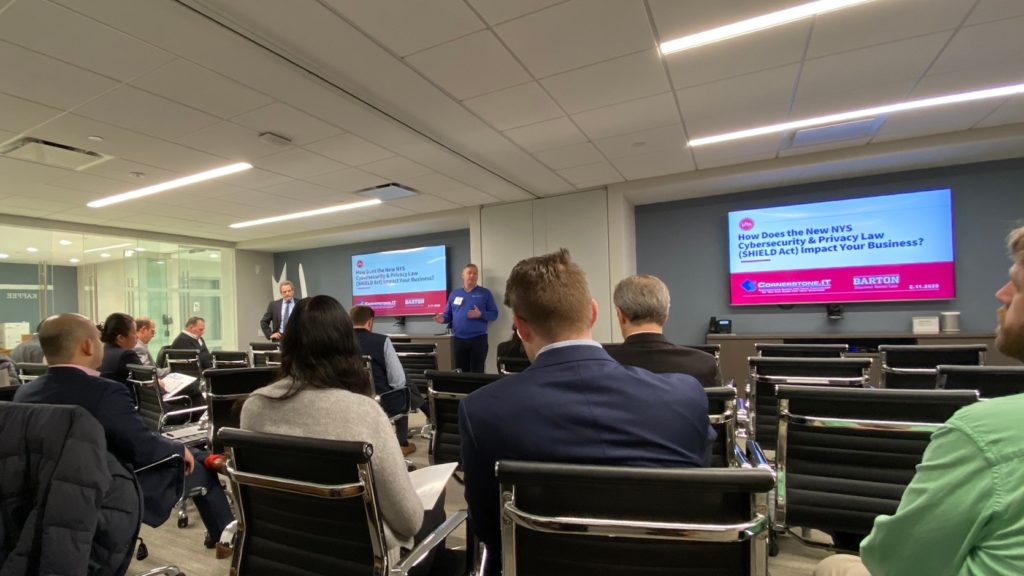 ---
The rainy February New York weather did not deter the crowd of ILTA members from attending and engaging in thoughtful conversation regarding the current Cybersecurity & Privacy law changes that will be taking effect in New York State this coming March with the "Stop Hacks and Improve Electronic Data Security Act" (SHIELD Act).
The topics of discussion included lessons from the EU's General Data Protection Regulation (GDPR), California Consumer Privacy Act (CCPA), Electronic Data Act (PIPEDA), and the implementations and best practices that reduce cybersecurity risk and monitor malicious activity. Case studies and examples of firms that have failed to have policies and action plans in place to reduce and remediate cybersecurity threats abounded. The key takeaway is to prepare now – regardless of your firm's size – waiting will only put your firm at further risk.
---
If you are interested in more events like these email Adriana.Vitale@Cornerstone.IT
More information about this topic — posted on its events page.