by Amy Russo
---
International Women's Day is approaching. Cornerstone.IT, Human Resource Manager, Amy Russo reflects upon her experiences as a working mom.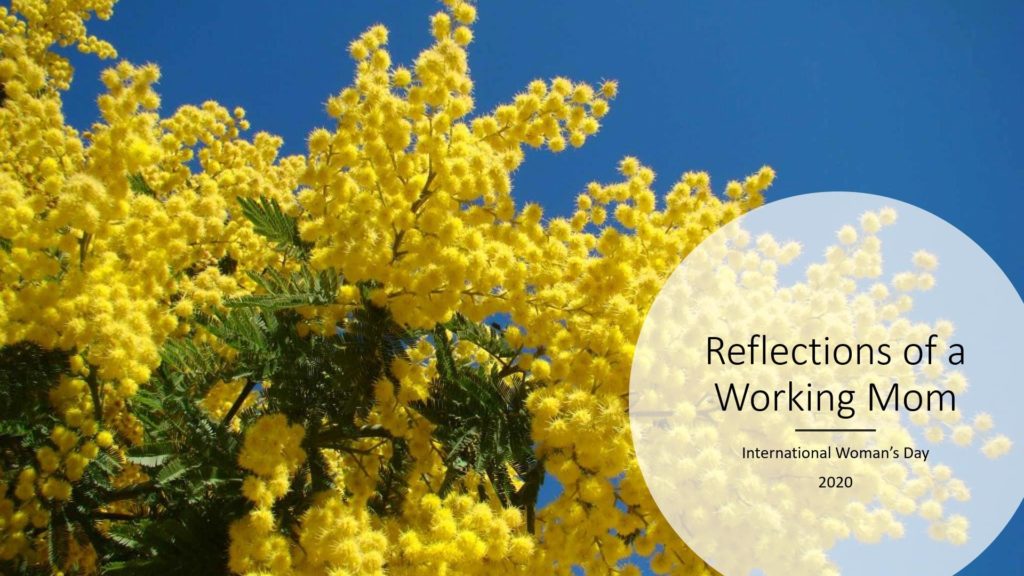 ---
Being a mother of 5 – scratch that, mother of 4 (the dog doesn't count, does she?), I find my professional life is both a needed distraction and an essential requirement. Inevitably, the kids end up coming out of their rooms wearing "high waters" (how could they not notice their ankles were cold?) (and full stop — how did you grow 3 inches over night?!!), or absent mindedly (yet urgently) pushing a field trip form (with $ due 'yesterday', of course!) into my hands at 6 am — at least 1x a month.
How is a woman to manage the cost of her beloved offspring, and keep her emotional and professional sanity? Where is the balance?
There are many solutions that we resilient and adaptable women engage in throughout the various 'seasons' of life, right? I've engaged in many of those options over the years. Maybe you have too?
---
Stay-at-home mom, at this point in our married life I had enjoyed a rewarding career, however, we made a life choice to change things up. 'Daddy' brought in 'the bacon' and I managed the bills and grocery list while nurturing our babies, watching their first steps, and changing lots of diapers. (Another full stop here. This IS work – physically exhausting and emotionally challenging!) I loved this period, loved the season of life where I could be with the kids full-time and influence their early development, and loved being there for the special moments. Side note – as much as I loved the immersion in full-time 'mommy-hood', I found I missed adult conversation and stimulation in the tiniest bit. With that said, I still would not change a thing.
Part-time independent contractor, this was a juggle for me personally. Challenged with little ones around, there was work that could be done at home and work that could only be done in the office. I felt conflicted about handing my small children to the babysitter, as good as she was, but here's the thing – I also enjoyed my work! AND eventually, we all got through that period unscathed. For me – it was a decent balance, with my hands still in both worlds of nurture and career.
Finally, where I am today, a full-time career mom. The kids are more independent and need less of my day-time attention. I have a wonderful opportunity with my current employer to work remotely from my 'home office'. This allows me the ability to be at home on those important days: sick days, vacation days, snow days, in-service days, holidays, etc.… I truly have the perfect scenario from that perspective. The fact that I have my 'work' where my family is, allows me more time to focus on both, without feeling like I'm giving something up. As more people work from home, it has become easier to accept the potential challenges of home-work life. Ever have your child show his/her face during a video conference or start waving behind you? OR hear your client or coworker's dog barking in the background because FedEx arrived? It's just a thing that happens, and it took me a while to understand, it's OK and I like that.
Life is full of challenges, problem solving, and decisions but I am thankful for my work-life, it keeps me grounded, and stimulated, and yes – paying the bills. I'm thankful to live in a day and age where I can be an educated woman supporting her family. I'm grateful to work for a company that regards all individuals with respect and provides opportunities for advancement, and especially (maybe secretly almost more importantly) — that I can wear my slippers while I work in my remote office.
My new mantra for today – gratitude brings peace and balance to my life. I am grateful to live one day at a time, balance my family's needs with my own, love my work, love my family, and love my life.