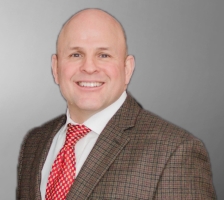 Neil Failla
Neil Failla has been there since the beginning. While it wasn't technically day one, Neil joined Cornerstone Information Technologies, LLC when the company only consisted of Jim, Tommy, one full-time employee, and one contract employee. He's watched the business grow from the ground up, can answer almost any question about Cornerstone.IT, and has played a significant role in its development.
"As the Operations Manager, I am responsible for all the engineering resources both in the U.S. and the Philippines, along with the workforce planning team that handles time entries and scheduling for the project management of our MSP clients," Neil explains. "When a Client Systems Architect (CSA) needs resources for a project, I make sure the engineers with the proper skill sets and availability are on the project's team. I also conduct weekly communications with the team members and CSAs to ensure that resource and training needs are met while providing an ear for feedback."
While Neil still does some engineering work, he mostly works as a supervisor, trainer, and an information resource. Neil conducts weekly training for new and junior engineers. He also works closely with all engineers on their development plans, guaranteeing that they continue to learn new skills in their area of technical expertise and personal growth.
"I try to be the eyes and ears of the company, working as a resource for the owners,"

Neil says.

"It's important for me to have a solid overview of what is going on throughout operations; through weekly communications with the teams we discuss what's on the board as far as client work, any suggestions or ideas on how we can improve on what we do, along with feedback on any issues or concerns they might have"

.
While Neil's path to engineering, wasn't a direct one, there were plenty of steps along the way. As a kid, Neil always enjoyed working with his hands, building model airplanes/cars and working on small engines. He attended college at SUNY Oneonta where he majored in business economics, with a minor in accounting. Following graduation, he entered the Marine Corps Officer Training Program and was commissioned as a 2nd Lieutenant, spending several years working and traveling the country, Asia, and Europe. After leaving the Corps he entered into an Operations Management training program at The Bank of New York, then opened a wholesale/retail Italian bakery business with his brother in New Jersey, where they managed a 24×7 operation servicing retail food stores.
After selling his bakery and ending his years in the food service business, Neil moved into NYC and took an interest in computers where he started taking some advanced education computer classes at NYU and The New School. During this time, he worked as an IT consultant at Snapple Beverage Group in White Plains, NY. The following year, Neil reconnected with former colleague Tommy Moreo, who helped Neil secure an interview at Union Square Technology Group, a New York based provider of IT systems integration and other services to the legal sector. Following Union Square, Neil worked for MCG, a small consulting firm in New York's garment district, before winding up at Cornerstone.
"At that time, Cornerstone.IT had already been in business for a couple of years with Tom and Jim leading the way," Neil recalls. "I introduced MCG's owner to them to help out with some firewall work at a client on Long Island, as Jim had the expertise we needed. Not long after, Tommy called me up and offered me an opportunity to work for Cornerstone, where I've been for twelve years now."
Neil is a single dad who lives in Connecticut with his two sons and their four fish. He stays busy outside of work by serving on his local community board, the board of trustees at his church in Danbury, CT, and serves as an assistant coach of his youngest son's youth Lacrosse team.